2nd January 2014
"Christmas Alone?" Lunch
This year our church and The United Church of St Mark (Great Tattenhams), again held a Christmas Lunch for people who would have otherwise been on their own. The event was run by volunteers and it received a grant from the Waitrose "Tackling Isolation at Christmas" scheme.

David Willock, "Christmas Alone?" Coordinator from St. Mark's, said: "We have been running the event for 20 years and each year it has been necessary to raise the money through donations and grants from other church groups. This year, thanks to the Waitrose grant, the financial worry was removed. The event takes considerable planning as we arrange transport to and from the church, provide a turkey lunch with all the trimmings and after the Queen's speech, we send every guest home with a present, packed tea and some food and goodies for their store cupboard. Each guest is contacted before the event to ascertain their mobility and health. Many of our guests have walking frames and wheelchairs and we are grateful to Age Concern (Banstead) and the Banstead Day Centre for the use of their wheelchair accessible minibuses. We very indebted to our helpers both before the event in administration, purchasing provisions, setting out and decorating the hall, preparing vegetables, and on the day, driving, providing entertainment, cooking and delivering the food to the tables, clearing up. All in all over 40 volunteers helped the make the day successful."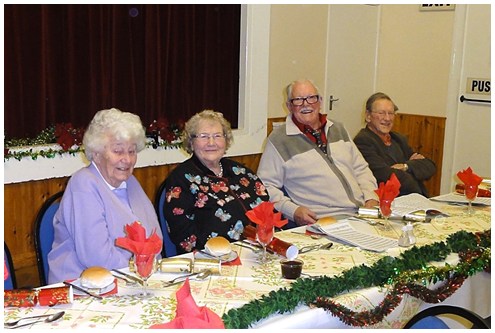 Editor's Note:
Special thanks to David Willock (from St. Mark's Church) who was the event coordinator, his wife Janet and to all the helpers on the day.
Also thanks to David for permission to publish his photographs and of course Waitrose for their donation.